Gluten Free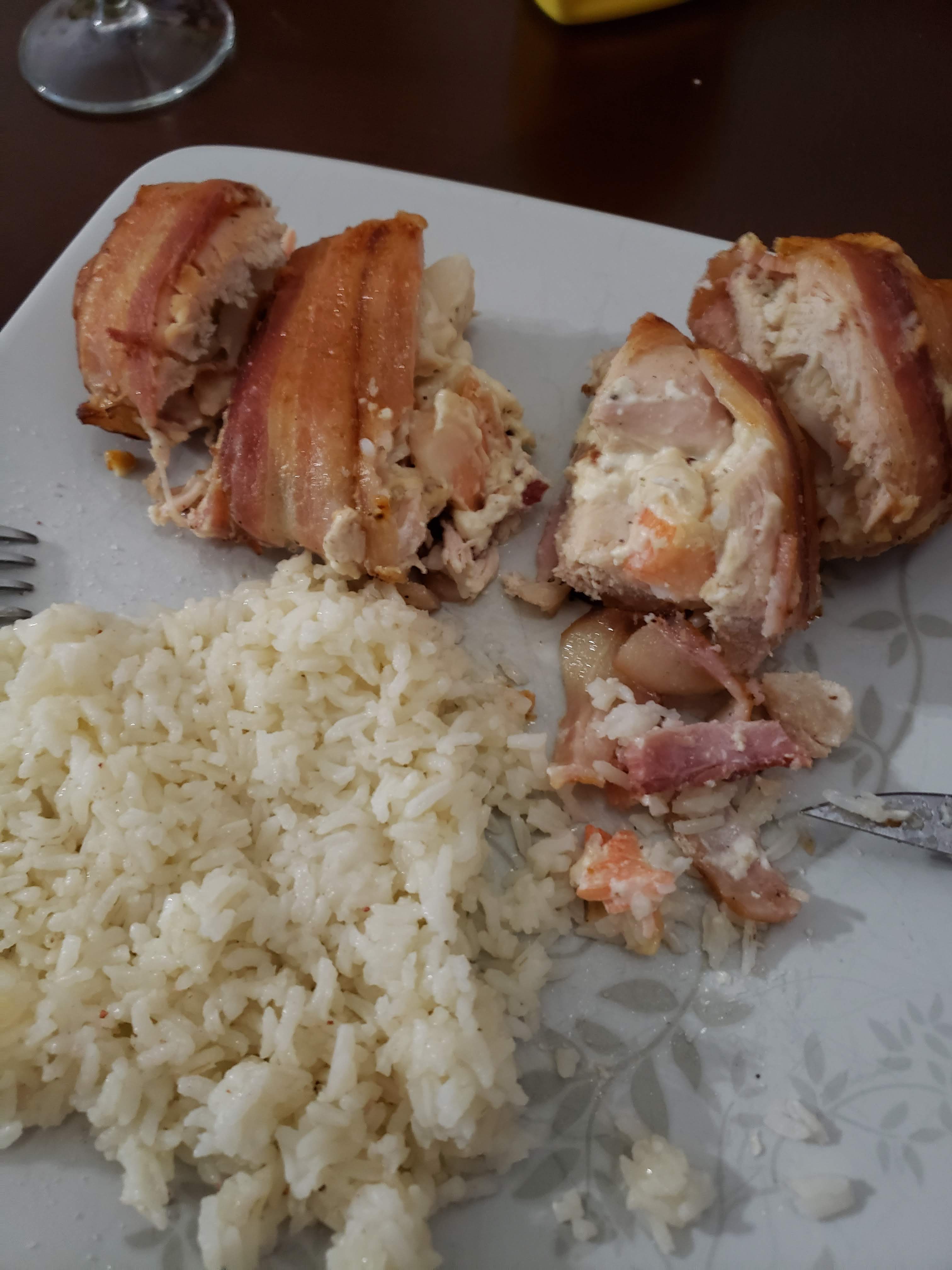 Crab Stuffed Chicken
Oh yeah you guys you read that right!! Allow me to blow your minds a little more….. it's not only crab stuffed chicken its actually CHICKEN STUFFED WITH A CRAB MIX AND WRAPPED IN BACON!!!!
WRAPPED IN BACON Y'ALL!!!!!
Alright well lets get to it shall we. Below is listed the ingredients I used.
large chicken breasts ( i used 3 )
1 bar of cream cheese
1 cup of chunked crab meat ( I used imitation crab)
1/2 cup of miracle whip mayo
1 package of bacon (bacon yummmmm)
1 carton of chicken stock
As for spices I used the following….
ground pepper, granulated garlic, onion powder, garlic and herb seasoning (I used kirkland brand)
First things first I marinate the chicken breasts with some chicken stock and 1 teaspoon of each spice listed above. I package this all together in a ziploc bag and leave it in the fridge for about 3-4 hours.
For the filling cook about 3-4 slices of bacon. (Leave the rest of the bacon uncooked to wrap the chicken later) Once the bacon is cooked chop it up into little pieces. Chop up some crab into bite size pieces. In a bowl mix the cream cheese, mayo, crab and bacon. Once this is mixed up really well I add in a 1/4 teaspoon of pepper. Set mixture aside.
Remove the chicken from the marinade and slice the breasts to create a pocket for the filling. (When dividing the filling I base it on the size of the chicken breast) Once you create your pocket fill it with some yummy spoonfuls of the crab mixture. After you have the chicken breasts stuffed wrap them with bacon…. we like to wrap the chicken with lots of bacon because ya know…..BACON.
Once everything is stuffed and wrapped with bacon place them in a baking dish that has been sprayed with some cooking spray. I personally use avocado oil nonstick cooking spray. For extra flavor I like to add about a 1/2 cup of chicken stock to the pan but this not required. If you choose to add the stock… then I recommend using a baster to suck out some excess juice for about the last 10-15 minutes of cooking to crisp up some of the bacon on the bottom of the chicken.
Place the chicken in the oven at 350 degrees for about 45 minutes. (Your baking time may vary depending on the size of your chicken breasts)
This dish is super amazing on its own or even with rice as a side dish.
Some substitutions for the filling that I personally enjoy are using broccoli instead of crab……you can mix in some diced green onions as well.
Well there you have it… a super yummy keto friendly, gluten free stuff chicken recipe that is personally one of my favorites!! I hope you all enjoy.
We would love to see your pictures of this recipe and hear your thoughts. Please submit your photos to flutterbythoughts1011@gmail.com